The end of the year approaches and it sees us all madly preparing for our end-of-year festivities. It is time for Champagne to take its time-honoured place at the top of all our party planning lists. However, it is often difficult to accompany an entire meal with just Champagne. Well, at least that's what I thought before!
At the beginning of the month, I was contacted by Maison Laurent Perrier to give my opinion on a Champagne pairing. A swanky invitation you say? Yes I agree! On the other hand, as part of the exercise they requested that our commentary was filmed … (find the video at the end of the article). All in all, it was a very interesting and exciting exercise. I was also allowed to choose the dish that I would be asked to pair with Laurent Perrier. The tasting took place at the Intercontinental Bordeaux Le Grand Hotel, in Gordon Ramsay's "Le Bordeaux" brasserie.  You can find my article on this wonderful brasserie by clicking here: I tested "Le Bordeaux" by Gordon Ramsay.
I decided to choose the Beef Wellington proposed by the chief for two reasons:
This is my favourite dish at the brasserie and I wouldn't want to miss an opportunity to taste it! 😉
Champagne is often recommended as an accompaniment for seafood or dessert, or as an aperitif. I was interested in taking a risk and trying it with a dish that had the potential to surprise me (In your opinion did I do the right thing?!)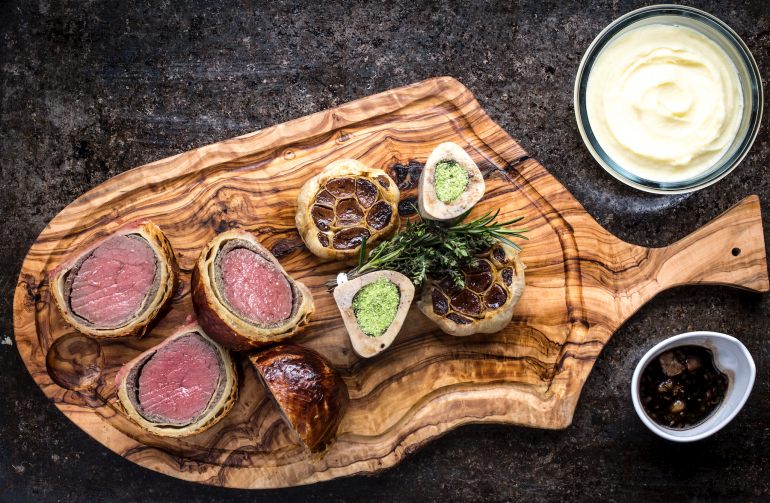 On arrival I was given the opportunity to taste the Champagne on its own, to get an idea of its aromas before pairing it with my chosen dish. The Grand Siècle is not just a Champagne, it is the Champagne! The cuvee Grand Siècle by Laurent Perrier is a non-vintage Champagne, it is produced by assembling three of the greatest vintages produced by Laurent Perrier – the best of the best! Produced in small quantities, it is a rare nectar that is truly SUBLIME! In all honesty, I think it is the best Champagne I have tasted (thus far …). The main reason is its bubbles, incredibly delicate, they allow room for its aromas of fruits and brioches to seduce us. This Champagne is remarkably delicate, fine and refreshing.
Its blend, as mentioned earlier, comes from the best vintages of Laurent Perrier and its best vines, it is 55% Chardonnay and 45% Pinot Noir. The work pays off, the result is truly fabulous.
The packaging is also to die for! I'll leave you to judge for yourself: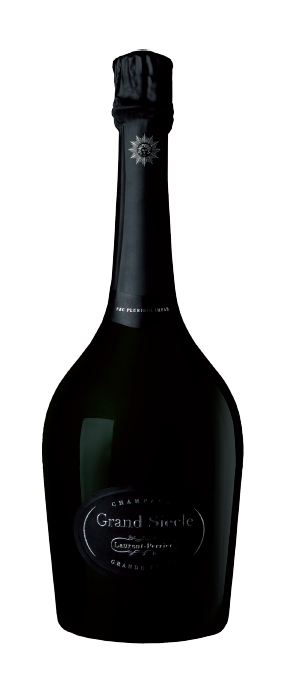 But let's return to the shoot and especially to what was promising to be a surprising pairing between this wonderful Champagne and the Beef Wellington. I was not disappointed, far from it! This dish, for some, might seem a little heavy (beef + stuffing + puff pastry + garlic + sauce + homemade mashed potatoes) to be paired with Champagne, more traditionally it would be paired with heavier red wines. But to my delight this particular Champagne was a perfect match! The delicacy of this wine and its freshness had the effect of lightening the dish. The aromas blend perfectly and complement each other. For example, the smooth, brioche flavours of the wine, match perfectly with the flavour of the puff pastry. It's a real success! I'll let you discover all my commentary in this video:
You can buy this wonderful Champagne from Millesima (www.millesima.com), if you're quick you might even be able to take advantage of their special offer. Selling for just over 100€, it is not the most accessible Champagne in terms of price. However, in view of its quality, it is really not excessive and it compares brilliantly to some of its famous rivals who are much more expensive!
The Making Of photo:
I was not alone for this exercise, check out the video of Mathieu de 7 de Table:
And that of Viviana of the Wines Fringe:
---
Laurent Perrier
http://www.laurent-perrier.com/
Grand Siècle par Laurent-Perrier

La quintessence du vin de champagne et du raffinement à la française

Lancée en 1959, Grand Siècle est la Cuvée de Prestige de Laurent-Perrier, signature de l'exigence et du savoir-faire de la Maison. Son style unique : finesse, puissance et équilibre naît de l'assemblage des meilleurs cépages, issus des crus les plus prestigieux et des meilleures années exceptionnellement millésimées par Laurent-Perrier.
Domaine Laurent-Perrier,
51150 Tours-Sur-Marne, France
Tél: (33) 3 26 58 91 22
Fax: (33) 3 26 58 77 29
Millésima
HISTORIQUE
UNE RENCONTRE AVEC … PATRICK BERNARD ET MILLÉSIMA

Peut-être ne connaissez-vous pas notre maison bordelaise. Par ces quelques lignes, permettez-nous de vous la présenter.
Forts de notre expérience et de notre sérieux reconnu, nous sommes devenus l'un des leaders de la vente à distance des grands crus en Europe. C'est en 1983 que Patrick BERNARD crée la société Vins des Grands Vignobles, devenue Millésima en juin 1988, vouée au négoce traditionnel des crus classés de Bordeaux.
Le 1er janvier 1988, la société crée son premier catalogue des 100 plus grands crus classés de Bordeaux, l'objectif étant de pouvoir le plus rapidement possible se concentrer sur la clientèle particulière.
A partir de 1992, nous avons créé et édité un catalogue pour les pays suivants :
Allemagne, Belgique, Portugal, Autriche, Suisse française et allemande, Grande-Bretagne, Irlande, Luxembourg, Italie et Espagne.
Aujourd'hui, plus de 65 000 particuliers sont des clients fidèles et nous avons déjà réalisé plus de 300 000 livraisons à travers l'Europe. Chaque jour, de nouveaux amateurs nous accordent leur confiance grâce au respect quotidien de nos 4 engagements majeurs.
Vidéo
Hello My Dear
http://www.hellomydeerprod.com/
​Tél : 07 86 29 45 32