I let you discover video magical place in which I had a divine evening Saturday, March 26…
Pretty isn't it?
Here, I spent a fabulous party in this extraordinary place that is the end Capon, in the company of my lover.
At 8 pm, the experience begins with a delicate and warm welcome. Once you have stored our coats, we followed the hostess, Brigitte, up to our table.
The theme of our evening was to test the menu trust of the restaurant with the agreement formula food and wine! An evening where we left them wear by the chef and our taste buds!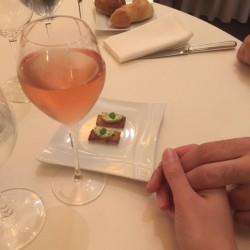 The sommelier offered as an aperitif Champagne rosé of the Gosset House accompanied by a small covered toasted bread of a butter oyster and seaweed from the Bay of Arcachon. A delight, really! But this is just the beginning of this divine evening!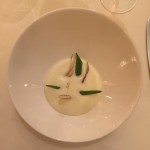 Amuses him mouth before the entry consisted of a potato puree covering the surprise of the head (some Morels!), chips of dehydrated red onions were planted in mashed potatoes and a little pepper syrup came to meet all! #miam
Before continuing, I would like to talk a bit of history, because the Capon is one of the oldest establishment of Bordeaux and especially one of the most recognized since its creation in 1825! It has triple star and was one of the first 33 settlements crowned by Michelin in 1933.
The leader, Nicolas Nguyen Van Hai, arrived there a little less than two years. His imagination, care he brings to the choice of raw materials and the high quality of its cuisine him allow I hope (but I doubt a second) to get (at least) a star in the Michelin Guide by next year!
Let's talk about the entry (the first!): th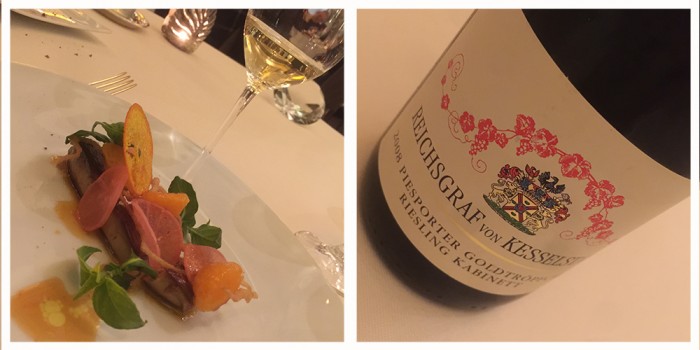 e agreement and perfect our evening wine!
Put: Liver fresh pan-fried with lacquered clementines and slice of pink radish to vinegar, all covered with a slight pepper sauce.
Wine: A white semi-dry German wine!
We didn't know if the clementine came of the dish or wine! It was amazing! Congratulations to the sommelier for this choice! And of course the head for this perfect entry!
The second entry: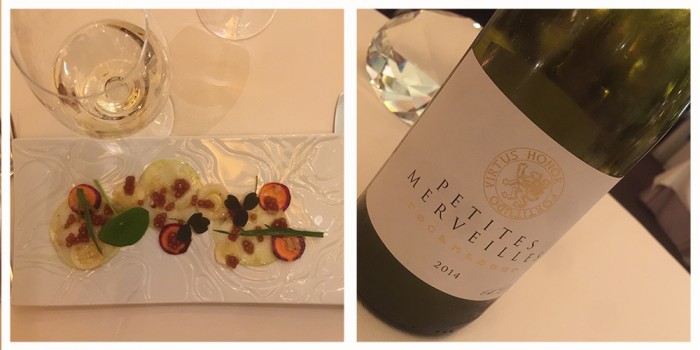 put: vegetable Carpaccio with carrot and celeriac, sprinkled with pearls of Japan in soy sauce and a secret ingredient that we have failed to determine!
Wine: Rocamadour
Fish: put:

Turbo lemon black of Iran, small artichoke, lemon in zest and green olives.
Wines: The turbo was incredible with obviously wine and garnish with the Carmenère.
Meat: put: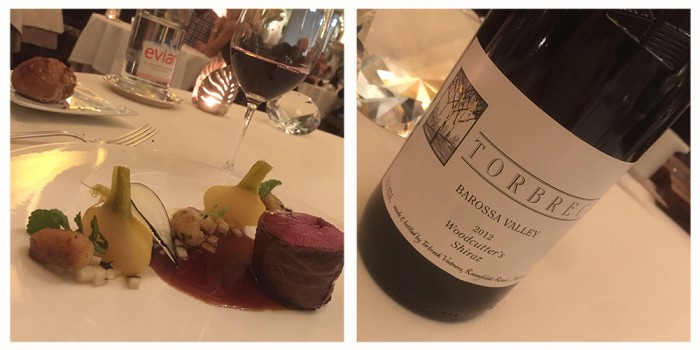 Pigeon smoked Hay under shell, Black radish, gnocchi of fane of radishes and turnips cooked in Sauternes. (the rare cooking of the pigeon made it incredibly creamy, delicate meat and tasty)
Wine: An Australian wine perfect with this amazing dish!
Cheese, pré-dessert and dessert:


Thereafter, the sommelier served us the wines blind! An exercise that we enjoyed.
Cheese: County 12 months in ravioli with Green Apple
Pre-dessert: The two lemons unstructured pie
Dessert: Opaline sugar topped with chocolate, praline and crunchy hazelnuts, scum of peppers of the peaks.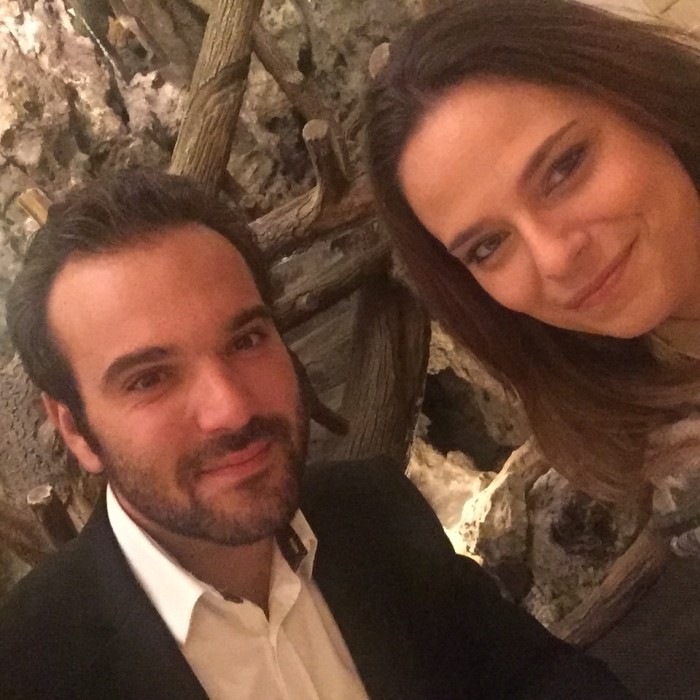 It was an amazing experience where time had more sense! We stayed 4 hours without seeing 1 last second. This makes us want to afford this "small" fun from time to time to let yourself be surprised by the imagination of Nicolas Nguyen Van Hai, and also by the sommelier! In love with wine, Epicureans and all lovers, we recommend this moment of surprise out of time.
For those who do not panic like not all foods (in terms of taste but also allergy), the beginning of the meal, the team asks if some things bother you or you would not be happy.
To return to this amazing team, it is certain that the quality first a gourmet restaurant (beyond), it is of course the service. The Capon end is service to the French in his best suit. All graph is but without ever being overbearing. A smiling, listening and caring team. A big CONGRATULATIONS once again!
In terms of rate, the menu trust is offered only in the evening, it is €89 per person (for 1 dozen dishes (appetizers and dishes).)  Add € 39 per person for an agreement puts and wine for this menu. (approximately 9 wines)
In order to make you happy at lowest price, the restaurant offers a menu at € 28 lunch (only). A formula that includes an appetizer, a dish (fish or meat of your choice) and a gourmet dessert.
Also, for lovers of wine, the Capon end offers, booking small group (up to 15 people), workshops of tasting with or no agreement puts & wine of the head. A moment of sublime and very intimate discovery because animated in the cellar of the restaurant in the basement!
I tested the theme versus Bordeaux Burgundy!
More details: exclusive services
I sincerely hope have inspired you to (re) discover this institution Bordelaise Capon end.
I warmly thank Brigitte, Sylvie, Nicolas and the entire team of Capon end for this absolutely divine evening, their involvement and the quality of their work.
To very fast for Epicurean Adventures!
For more information:
The end Capon
5 rue Montesquieu
33000 Bordeaux