Well that's it, I think we can (finally!) say: SUMMER IS HERE! The Sun is finally back from vacation (I hope he is well rested and he's going to shine for real long weeks!). And who says Sun says happy hour, pool, Barbecue and WINE COSTS!
Then then then? What do you drink when you want fresh? Pink? White?
I found THE WINES PERFECT for your summer! In pink and white, it is of AOC Bordeaux which we talk and what are the Tutiac of winemakers who!
STANDING OVATION PLEASE! I have the pleasure and honour to present you the blank By Tutiac estuary, in pink and white!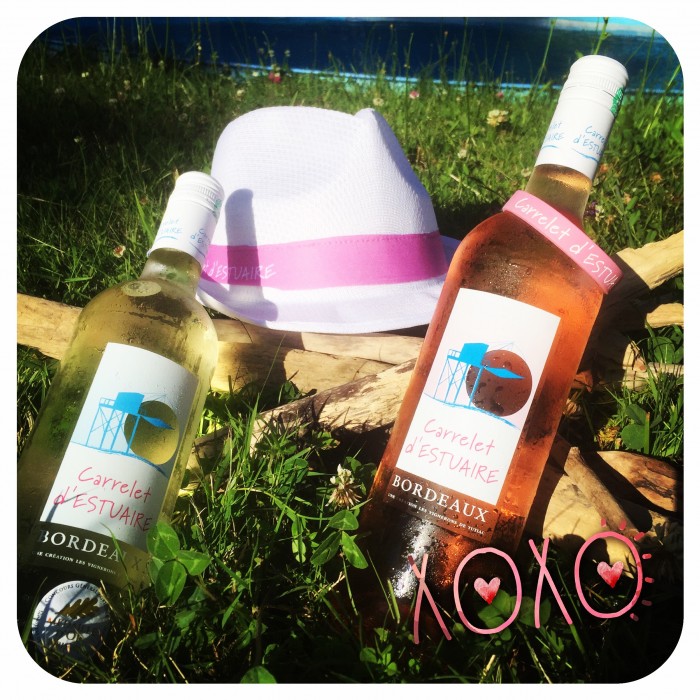 As you know, I'm charming, and one of my spare time favorite when I visit my parents in Talmont Sur Gironde, it is sin to plaice. You do not know? You have the design on the bottle label. It's a shack on stilts, found on the estuary of the Gironde, equipped with a large net that is drops and rises through a winch. It's a peach of leisure where fish is caught by surprise and not baited. In short, great moments of sharing, of fun and holiday / weekend.
These wines are so excellently aptly named!
And you know what? The winemakers of Tutiac organize a contest with the estuary plaice from July 1 to August 31 and offer to win many gifts for the summer:
1 living room of garden,
3 barbecues,
5 sun loungers,
up to 60 bottles of plaice of estuary.
More details and participation: http://www.carrelet-estuaire.com/jeu-concours/
---
Where to find these wonders to discover?
July 2016
1 and 2 July: Operation plaice of estuary Carrefour Market in village on Gironde (33)
18 to July 30: Bordeaux Camping Tour 2016 on the coast (33)
13 July: Operation plaice of the estuary, to the Leclerc Blaye (33)
15 and 16 July: Operation plaice of the estuary, to the Leclerc Blaye (33)
From 14 to 17 July: international Jumping, in Blaye (33)
14 July: Callonges party-time, in Saint-Ciers on Gironde (33)
August 2016

August 1: evening music Girl Power, to Holy Palace on sea (17)
August 15: the night of the blanks, to Saint Ciers on Gironde (33)
20-21 August: fair wines and gastronomy, to Holy Palace on sea (17)
27 August: open Tutiac vintners, Marcillac (33)
---
Personally, I had the chance to discover during the day, Bordeaux the wine 2016 on board the Belem! Thank Tutiac winemakers for this absolutely divine evening which ended wonderfully Bordeaux wine party! Back to the image on this evening!