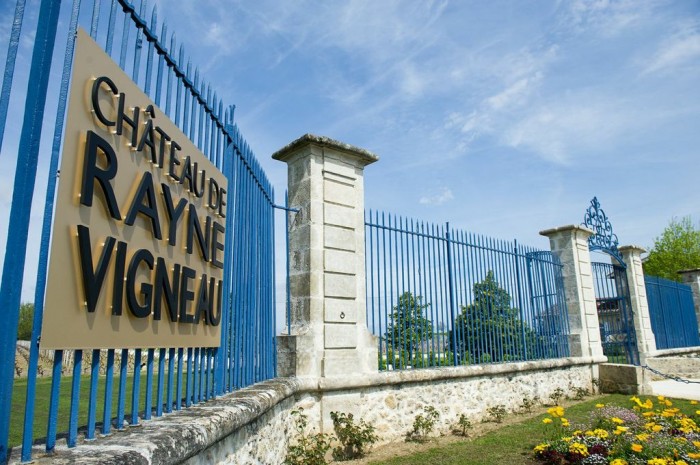 March 19, with a bunch of happy bloggers Bordeaux, we tested for you the tasting Perché that offers Castle Rayne – Vigneau, 1 Grand Cru class in 1855. The Sun was had a date and we had an absolutely fabulous time in the company of Vincent Bergeron (Director of the Castle), Clémence Quemin (responsible for wine tourism and communication at the Castle) and Vincent gall of the association over the Ciron (host of the "perched" workshop).' I suggest you CLICK HERE to return in image and tweet on this crazy day!
Mercy first greeted us warmly with a tour of the property. She explained to us the richness sauterne terroir and especially that of Rayne-Vigneau. The history of this area overlooking the Valley of the Ciron proudly is rich. She gives place has a succession of different owners, all lovers of this beautiful land, successful, over the decades to make the Sauternes one of the largest.
And then we got out of the walls to the large Cedar that Vincent (Galle) has appointed Arsène! Ask her why on my part during your visit! But we had not empty-handed!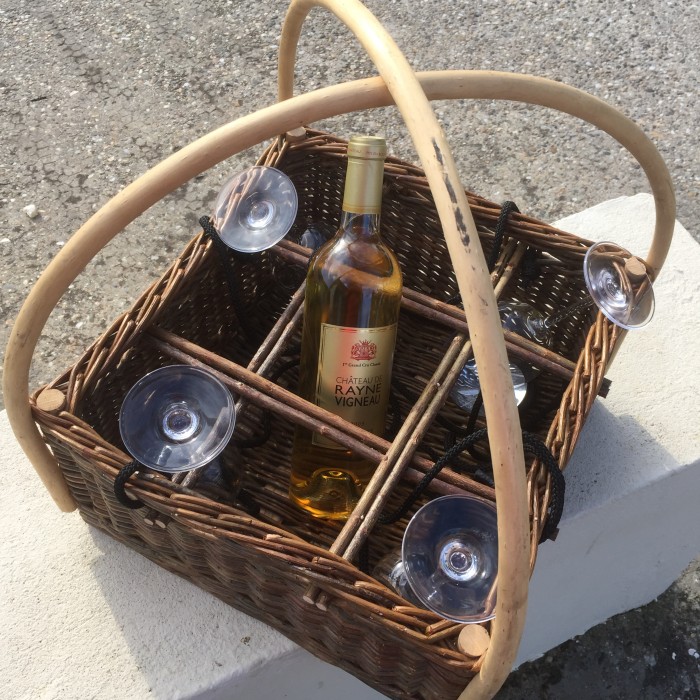 Here's our basket a bottle of the Château de Rayne-Vigneau 2009 and 4 glasses (well attached to the baskets!). Clemency says while this basket, we'll put it at the top of the tree once well established: it IS OUR REWARD!
And we we're equipped!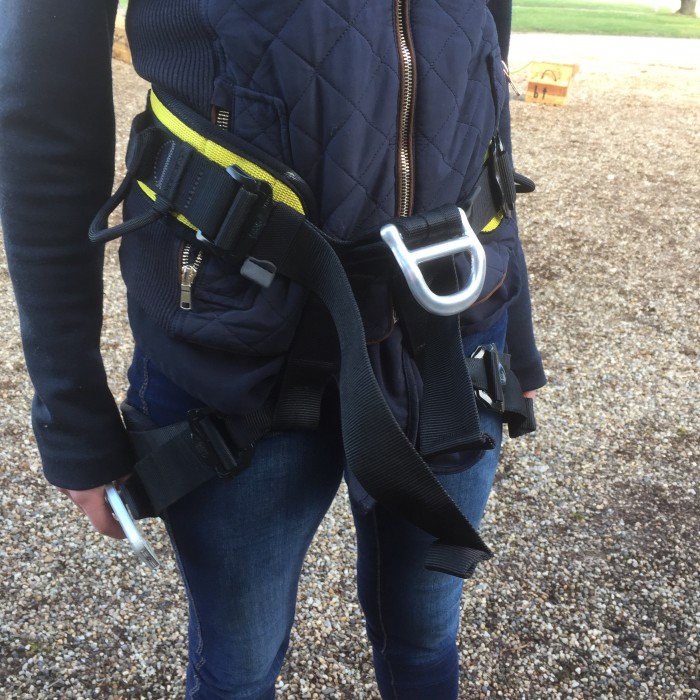 Vincent has taken the time to explain to us how to climb. For the less energetic in between you, don't panic! Climb into a tree in the manner of Vincent isn't absolutely a story of strength! Everyone can do, it's to take a shot of hand and good coordination of movements! However, it will come dressed in comfortable clothes and sneakers.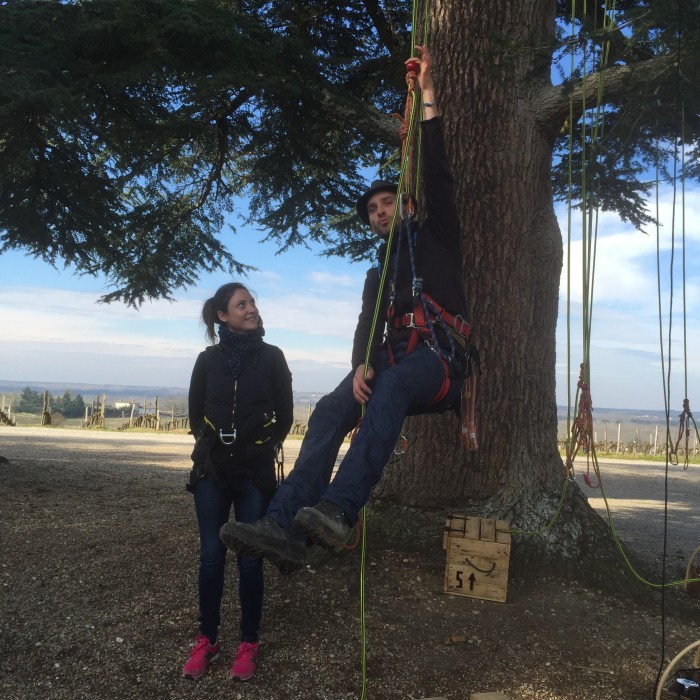 Well, it has left for climbing! The Castle offers two heights: one to 6 meters to 12 meters! The views are a little different, but the feelings are the same! (A big thanks to Barbara in the life of a curious for these pictures!)
And once at the top, well established on the bar built and installed specially for this animation, we mounted our basket (good in real it is Vincent who made it!) and we (finally!) tasted that sweet nectar is the castle of Rayne – Vigneau 2009. It must be said, the sensations are not the same at all. The benchmarks are not the same… The aromas are intense, yet most gourmet fruit… In short, what happiness!
To be completely honest with you, I have a little dizzy, in life in general. So I was nervous a little bit this year. In fact, Vertigo comes when our feet have a contact with a solid element. Here, our feet are suspended in a vacuum, and I promise you that at any time I have had Vertigo. On the other hand, when it took out my phone from the small bag attached to my harness (Yes Yes Vincent to thought of everything!) it was a different story! I couldn't imagine my phone fall to the ground… then take pictures with… Fortunately Vincent take our phones and cameras to do it at our place! (I still managed to do a little selfie!)
After a good time to enjoy the Sun, the wine and good company of our guests, it took down! To show you how simple it is, watch this short video (only 8 seconds!)
And presto!
This unique activity in France, the Château de Rayne Vigneau, offers to make when you want, on reservation from €33.00 per person (including tasting). Then why not?
To book, contact mercy 05 56 76 64 05 or 06 85 94 15 89 or by email to cha[email protected] 
Many THANKS to Clemence and Vincent for this incredible activity, their kindness and their warm welcome.
In my next post, I'll tell you the workshop assembled that proposes the Castle. It is a novelty that will be available from July 1, 2016.
In very soon for new adventures oenotouritiques!
The articles of my blogger friend 
The life of a curious on Gironde tourism
---
 Château de Rayne-Vigneau opens its doors
21 & 22 may 2016
More info: click here!
For the occasion, perched tasting is € 19 per person!
Enjoy like the page of the Castle!