I haven't yet had the chance to test the "Pressoir d'Argent" since its kitchens were "anglicised" by Bordeaux's newest culinary recruit from across the pond. Do you know who I mean? Ah yes, the one and only Gordon Ramsay, star of the small screen thanks to his popular show "Kitchen Nightmares" and a recipient of no less than three Michelin stars.
A recent arrival in Bordeaux, Ramsay was appointed head of the Pressoir d'Argent, the restaurant at the Intercontinental Grand Hotel Bordeaux, place de la Comédie (recipient of one Michelin star in 2016). The name of the restaurant (which translates to silver press) comes from the presence of a rare silver lobster press, designed by Christofle – there are only 5 pieces in the world!
In June Gordon opened the doors of his brasserie: GORDON RAMSAY "LE BORDEAUX".
From as early as 1850, this location has been a popular spot in Bordeaux, thanks to its centrality and up-market neighbourhood (right in the heart of Bordeaux's golden triangle), but also thanks to its traditional cuisine, which has always had a reputation for quality. It place full of historical anecdotes, such as the time when Victor Hugo, almost two centuries ago, made his famous statement on the destiny of Europe!
Today, the décor is a modern take of the "belle-époque". Mixing design and sumptuous materials but staying clear of any kitsch. A big plus is the limited number of tables, which allows for a decent amount of space between each. The intimacy of its tables sets it apart from most other bistros: lunch or dinner, you are not sitting on your neighbours lap!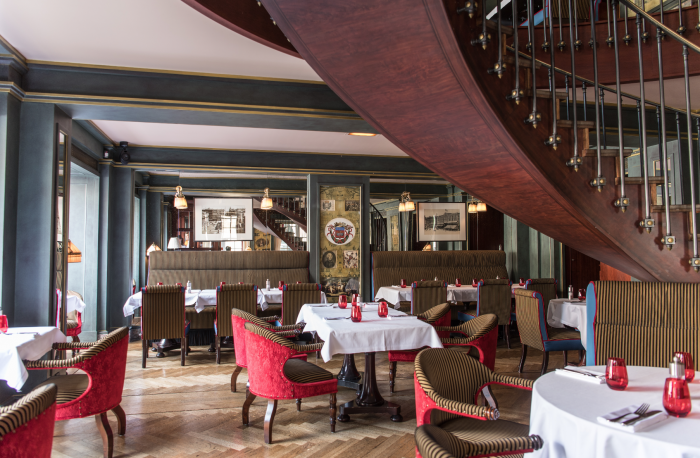 In regards to the food, what a treat! It's 100% traditional but revisited! I don't know if you follow me. For example the Caesar salad, in this dish we find all the classic ingredients (chicken, lettuce, parmesan and sun-dried tomatoes) but with a completely innovative presentation! I'll leave you to judge for yourself: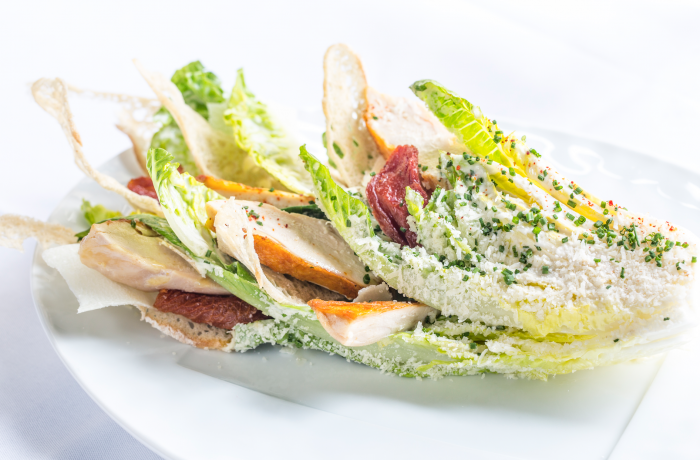 In terms of price, it is, as you might expect, a bit more expensive than a traditional brasserie. But it is not excessive, especially for the quality of the dishes and the service. What I find particularly pleasing is the fact that the prices are the same for both lunch and dinner, which is quite rare for this kind of restaurant!
I would recommend (Tested and validated!):
The Fish and Chips
 It's PERFECT! The ideal composition: a delicate, deboned and finely crumbed fish, a delicious sauce and home-made French fries and salad!
For €25, I sincerely think it's the best Fish and Chips in Bordeaux!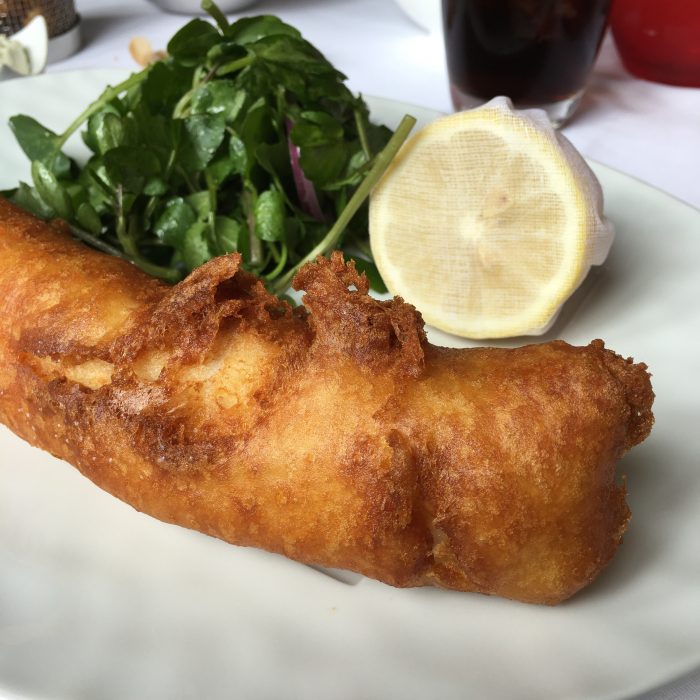 Beef Wellington
For two: €79
This is a real treat if you love meat!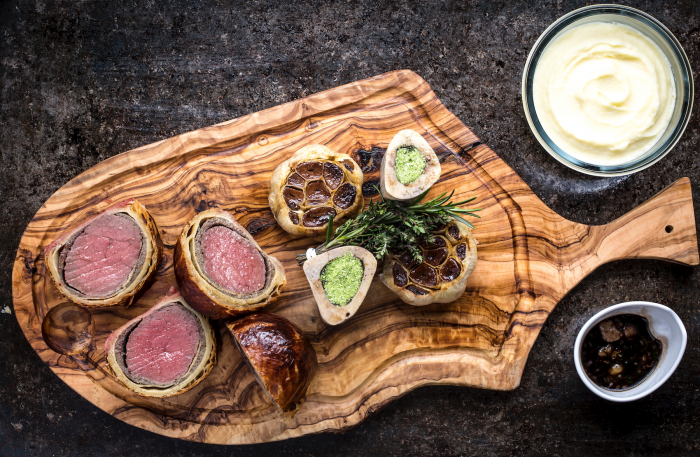 The lemon meringue pie
A retake on this classic dessert
A delight in the mouth for €9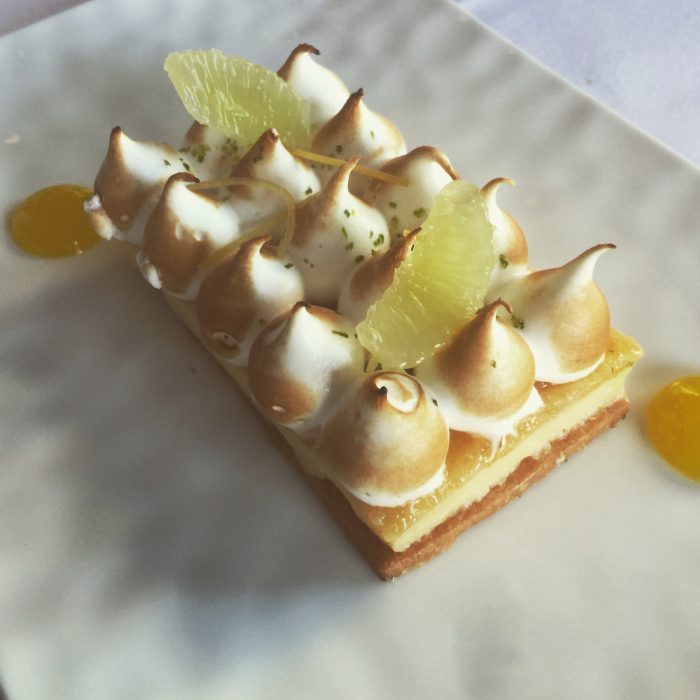 Marinated Garriguettes (strawberries)
Accompanied by a sorbet and a crispy wafer, this dessert is very refreshing.
A lovely summer treat:  €11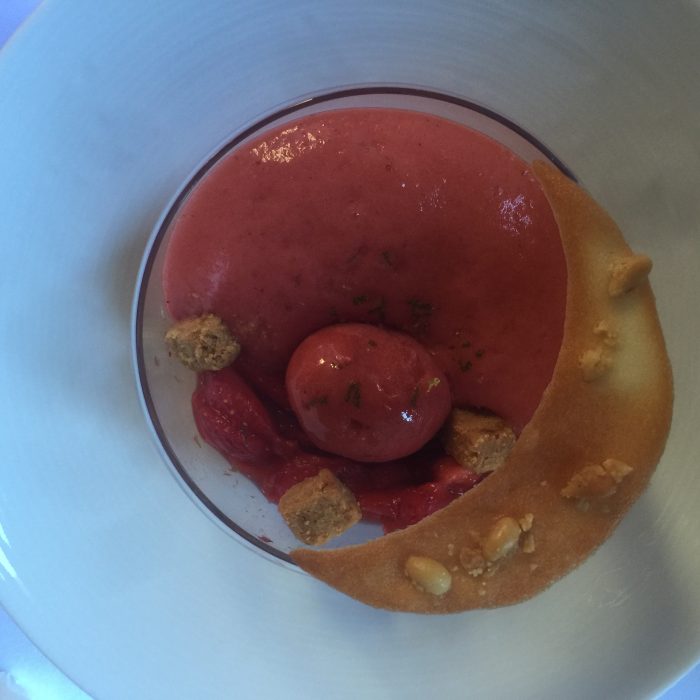 Caribbean chocolate fondant
yum yum yum… as soon as you dip your spoon into this dessert warm chocolate oozes from inside into the delicious raspberry puree surrounding it… €9
I can't wait to try the burgers!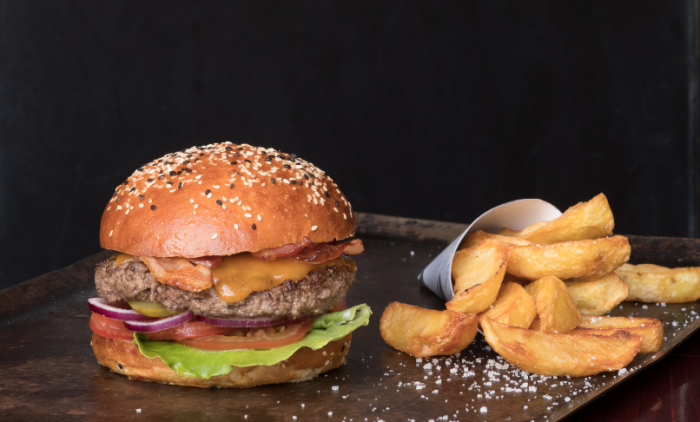 Here is a copy of menu to make your mouth water and give you an idea of the prices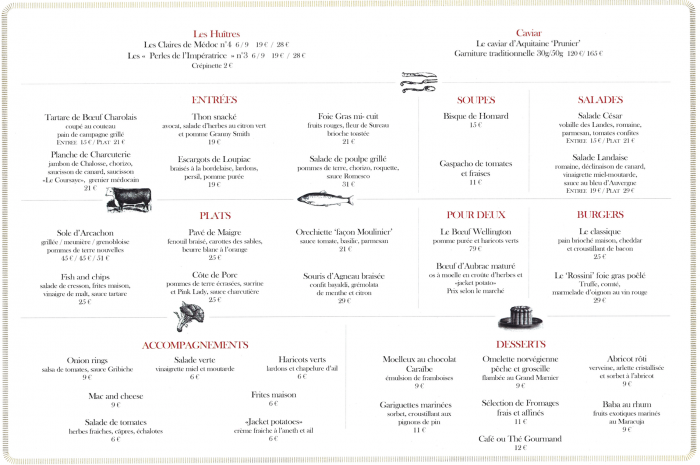 If you have never passed the door of Grand Hotel de Bordeaux, I invite you to watch this video in order to plunge into the world of the Intercontinental Bordeaux:
---
INFO AND CONTACTS
InterContinental® Bordeaux-LeGrandHotel
2-5, Placedelacomedie
33000Bordeaux-France
T. + 33 (0) 5 57 30 44 44
Web site: www.InterContinental.com/Bordeaux
Facebook: https://www.facebook.com/ghbordeaux.spa
Twitter: https://twitter.com/GHBordeaux
Instagram: https://www.instagram.com/intercontinental_bordeaux/
Pinterest: http://www.pinterest.com/grandhotelbx